Father Mark Hamlet, Chair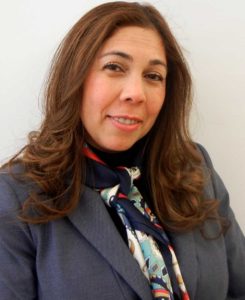 Suyen Sanchez, Director of Advancement
Suyen Sanchez joined "Our Kids at Heart" in December 2017 after seven years of Risk Management in the banking industry and 10 years of Community Service Relationship with social industries in Houston and Austin,  Texas. She moved from Houston to Austin in 2010 and presently serves as the Advancement Director for Our Kids at Heart. She oversees all areas of fundraising events, grant opportunities, and marketing. Suyen is a graduate of the National University of Engineering in Central America, Nicaragua.
Suyen is an active volunteer at her parish Sacred Heart church in Austin, as a 5th Grade Catechism Teacher. She serves as the Parents Coordinator of Sacred Heart Catholic Church for the students that attend San Juan Diego Catholic High School, as well. For the past three years, she has coordinated the fundraising "Breakfast Sales" events and other events in the Parish to raise money for Sacred Heart Tuition Funds. In her free time, Suyen supports the Greater Hispanic Chamber of Commerce community programs. As an Alumni of the Hispanic Austin Leadership Program, Suyen was part of the 2017 Environment team, leading a tree planting initiative in AISD in collaboration with HEB, Tree Folks, and the City of Austin. She taught students how to grow their own food to combat affordability and food deserts in Austin.
Suyen's passion is to serve people in need. Catholic Education means a lot of blessings for Suyen, whose son graduated from San Juan Diego Catholic High School in 2017. He became an Eagle Scout in 2017 and now he is an Undergraduate Student at University of Dallas.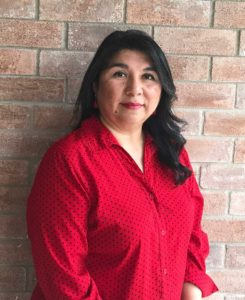 Elizabeth Carrillo
Elizabeth Carrillo joined "Our Kids at Heart" in July 2017 to support the accounting and financial operations. Elizabeth and her husband, Oscar Gonzalez, are active parishioners at Sacred Heart Catholic church since 2001 and have served the parish for 16 years in diverse ministries of CHRP, Religious Education teachers, bible study, marriage prep,and Catholic Family Movement. She is also the Administrator of Sacred Heart Church and her husband is in the Diaconal formation program class of 2019. Elizabeth has a college degree in Business, and is a graduate from "Public Account and Business University of Monterrey, Mexico."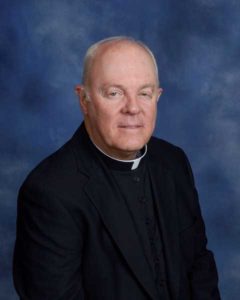 Fr. Mark Hamlet
Since 2012, Fr. Mark Hamlet has been Pastor of Sacred Heart Catholic Church in Austin, Texas. He entered St. Mary's Seminary in Houston, Texas, after serving the Diocese of Austin for several years as a permanent deacon and was ordained to the priesthood in May 2010. Fr. Mark is a widower and was married for 37 years. He and his wife, Cynthia, met while attending the University of Dallas, a Catholic University. He and Cynthia raised six children and he now has sixteen grandchildren.
After studying Economics and receiving his MBA, he spent most of his professional career in international marketing and sales management of medical devices. Prior to moving to Austin in 1988, he and his family lived for five years in Latin America (In Venezuela and Mexico). Subsequently they lived in the Boston area for eleven years. As deacon he served St. John Neumann Parish in Austin and St. Margaret Parish in Giddings, Texas. In addition, he supported formation of deacon classes for the Diocese, ecumenical activities, and represented the Diocese for the Muslim community in Central Texas after the events of 9/11.
After his ordination to the priesthood, Fr. Mark was assigned as Associate Pastor to St. John the Evangelist Catholic Church in San Marcos. He also serves on the Board of Directors of Catholic Charities of Central Texas, and the Diocesan School Advisory Board.
Fr. Mark's concern for healthy families has guided his parish ministry. The Boy Scout, Cub Scout and Girl Scout programs at the parish are part of the parish youth ministry program, and the largest Hispanic scouting programs in the area. He has been active in the Pro-Life community and help create the first, "Pro-Life/Pro-Family Fair" which draws thousands each year, working with most of the other Pro-Life agencies in the Diocese. The change of emphasis from simply "Pro-Life" to "Pro-Family" reflects his concerns for healthy families and youth formation. Fr. Mark sees Catholic school education as one of the most effective evangelization tools available to the Church, and essential for integrating immigrants and under-privileged into the Diocesan community.
Fr. Mark's hobbies include travel, ocean sailing and researching and visiting the "House" ("Titular") churches of Rome (the Churches of the first four centuries of the Church since St. Peter).